Enjoy the unique ambiance of colourful Cloverdale
On the streets of Cloverdale, you can feel the richness of its history permeate the air and envelop you in its unique eclectic charm.
A plethora of stories have been told in picturesque Cloverdale from individual celebrations to grand tales told on the big screen.
The community of Cloverdale is home to incredible hidden gems that have warmed the hearts of locals as well as the Fairgrounds where the Cloverdale Rodeo has entertained thousands from near and far.
Mason's Cloverdale Home Furnishings and La Belle Vie can help you create the perfect stage for your story. While a short walk away the Create-It Emporium releases your creativity so you can add your own personality into your setting.
There is no shortage of diverse and varied flavors nearby. Enjoy soul-warming meals at The Heart or Coast and Country Diner. Treat yourself at Sweet Avenue Bakery. Republica Coffee Roasters is ready to pick you up in the mornings while Hawthorne Beer Market & Bistro is where you can go to wind down in the evening. Tastebuds have been tantalized for over a decade at The Vault, home to a celebrated chef and a salivating menu. Foodie adventures await the main character and that would be you.
Meet the neighbours
Republic Coffee Roasters Inc.
5674 176 St #102 Surrey
"We chose Cloverdale because of the vibrant, friendly, diverse, and inclusive community feel as well as the rich history. We anticipated the revitalization of the charming downtown area and wanted nothing more than to be part of it."
Adelle & Josie – Republica Coffee Roasters Inc.
Sip N Snack
5723 176 #5, Surrey
"Cloverdale is such an amazing place to live because of our sense of community and passion for supporting locals. It has a small-town feel while still having urban amenities. We opened our business in Cloverdale because this is the community we live in and love. I myself, am the second generation born and raised in this town."
Kaitlin . Sip N Snack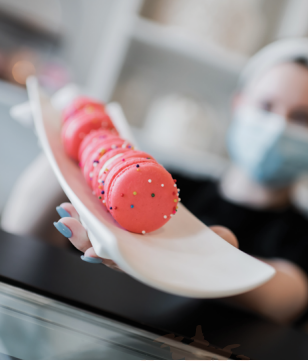 Sweet Ave Bakery
17455 56 Ave #135, Surrey
"Cloverdale was my #1 choice when it came to opening my storefront. I've lived in Cloverdale for 10+ years and the sense of community and the small-town feeling is just amazing!"
Amy – Sweet Ave Bakery