THOUGHTFUL INTERIORS FOR EVERY STAGE OF LIFE
The homes at Chronicle are a blend of historical charm and modern livability, designed for all chapters of life.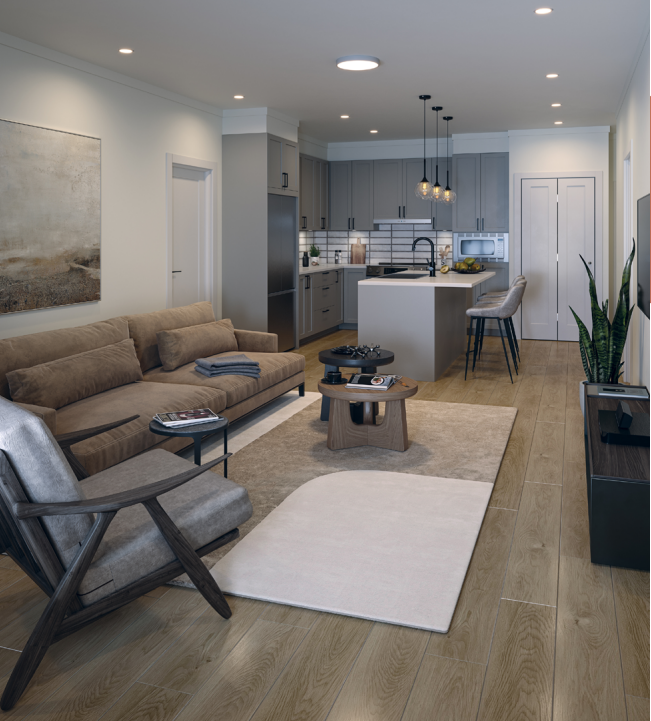 Your incredible autobiography deserves the perfect setting.
Thoughtfully planned living spaces bring the right amount of character into each home with modern farmhouse inspired style.
Newly designated heritage building, the Chronicle amenities space was originally constructed in 1924 and retains much of its original form with gabled roof, wooden knee brackets, and full-width porch. Significant for its association with the interwar agricultural development of Cloverdale and connection to well-known Surrey residents, John J. Main and his wife Edith who contributed much to the community. Feel connected to the past with this preserved piece of history. Perfect for gatherings to celebrate life's special occasions or to unwind while enveloped in the magic of a past era.
View Features
An incredible setting for storytelling.
Mason's Cloverdale Home Furnishings and La Belle Vie can help you create the perfect stage for your story. While a short walk away the Create-It Emporium releases your creativity so you can add your own personality into your setting.
Enjoy the unique ambiance of colourful Cloverdale